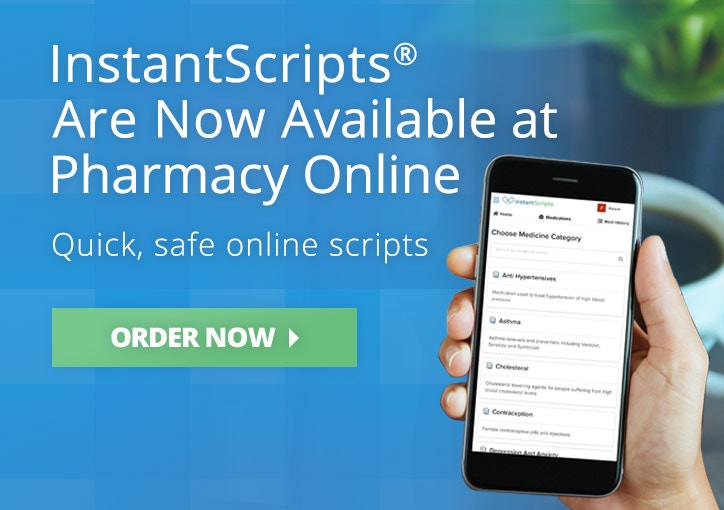 Getting a prescription for your medication can be a pain. You pay a lot of money to wait around in a room for a script that really only takes your doctor minutes to prescribe. It's slow, inconvenient and expensive, plus you had to travel and sit in a waiting room full of sick people for half an hour.
It can be particularly frustrating if you're living with a chronic illness and require ongoing medication.
But with InstantScripts®, you can request an online prescription and have it sent to Pharmacy Online for dispensing and then direct to your home.
Backed by real GPs, our RACGP-certified doctors will review your script to make sure you receive the best and most appropriate treatment for your condition.
No more unhealthy waiting rooms
No more long wait times
No more costly consultations

InstantScripts® is a secure online platform that offers prescriptions after completing a short digital consultation. InstantScripts® makes getting prescriptions in Australia simple and easy bypassing the traditional need to visit your GP. Instead you can complete the consultation from the comfort of your own home and Pharmacy Online® will have your medications delivered straight to your door.


How Do I Use InstantScripts®
Click here to select your medication
Login or create an account
Complete the digital medical consultation
Your request will be reviewed by one of our Australian registered doctors and if further clarification is required you will be contacted.
If approved, you will be notified and the prescription sent directly to Pharmacy Online®.
Continue to Pharmacy Online to order your medicine and complete the checkout process.
Frequently Asked Questions
How secure is InstantScripts®?
Your safety is our priority. We use secured cloud data centres to protect your data. All connections to our servers are encrypted and protected with modern secured communication protocols (HTTPS/TLS) using strong security certificates.

How much does it cost?
Prescriptions can be obtained via the InstantScripts® platform for $15.

Is a real GP writing my prescription?
Every InstantScripts® doctor is a licensed, registered & fully insured doctor based in Australia who will adhere to the highest clinical standards.
Your doctor's medicare prescriber number will be written on the prescription.

Do I need a medicare card to use the service?
While anyone can use InstantScripts®, some services may require a medicare card.

What sort of medication is available through InstantScripts®?
InstantScripts® offers online prescriptions for over 300 common medications, both for everyday conditions and chronic illnesses:
Women's health and contraceptive pill refills
Men's health, erectile dysfunction medication and premature ejaculation treatment
Urinary tract infection (UTI) treatment
Herpes treatment
Prescriptions for asthma inhalers
High blood pressure medication
Over-the-counter gout medication
Prescriptions for pain management
Cholesterol medication
Heartburn treatment
Antidepressants and SSRI medication
Hormone replacement therapy
Melatonin tablets
Nasal sprays
Steroid creams
Prescription skin care products for acne and Rosacea
What happens to my data?
To accurately and safely provide prescriptions and medical consultations, we'll need to collect some personal information, such as your address and medical history. All of your personal information will be safely held in our secure cloud storage and encrypted in the database. Your data will be held in local data centres that adhere to the highest Australian standards, so that your information remains safe and sound on Australian shores.